The Archive
June 2016
Galliani: 'Montella the right choice'
28.6 || webmaster

Adriano Galliani believes Milan "have made a good choice" in appointing Vincenzo Montella.

The former Fiorentina Coach has officially been appointed as Cristian Brocchi's replacement, and will start work on July 1.

Read the rest on Football Italia.
OFFICIAL: AC Milan appoint Montella
28.6 || webmaster

Milan have officially appointed Vincenzo Montella as Coach, replacing Cristian Brocchi.

Reports intensified in recent days that the Sampdoria boss would be taking over at San Siro, with his agent as Casa Milan for talks today.

Read the rest on Football Italia.
'De Sciglio couldn't reject Napoli'
28.6 || webmaster

Mattia De Sciglio's agent says "it would not be possible" for the Milan full-back to reject Napoli.

The Italian international has been linked with a move away from San Siro, with the Parteneopei and Juventus both thought to be interested.

Read the rest on Football Italia.
Agent: 'Interest in Bacca'
27.6 || webmaster

The agent of Milan striker Carlos Bacca says there are "several big clubs" interested in his client.

The Colombian international joined the Rossoneri from Sevilla last summer, but has been linked with an exit with the Diavolo out of European competition.

Read the rest on Football Italia.
Capello linked to AC Milan bench
27.6 || webmaster

Fabio Capello is apparently being pursued by Silvio Berlusconi to return as Milan's Coach, but a deal seems unlikely.

The Rossoneri are becoming increasingly frantic in their attempts to find a suitable candidate to lead the players next season.

Read the rest on Football Italia.
New offer for AC Milan sale?
27.6 || webmaster

Milan may reject the bidding Chinese conglomerate as a new offer is rumoured to be on the table to buy the club.

The Rossoneri have been plodding through one of the slowest negotiation processes in modern Serie A history, and now appear close to selling the club to a business group from the Far East.

Read the rest on Football Italia.
De Sciglio: 'Juve, Roma and Napoli'
26.6 || webmaster

Mattia De Sciglio "is wanted by Juventus, Napoli and Roma, so we'll evaluate the situation with Milan," said his agent.

The versatile full-back came up through the Rossoneri ranks, but struggled for fitness and playing time recently.

Read the rest on Football Italia.
Brocchi steps aside for AC Milan?
26.6 || webmaster

Milan are due to announce their Coach on July 1 and Cristian Brocchi is reportedly stepping aside for Marco Giampaolo.

The club has been in turmoil with several changes of management, most recently Sinisa Mihajlovic's dismissal for Brocchi in April.

Read the rest on Football Italia.
AC Milan takeover for 80 per cent?
26.6 || webmaster

The Chinese takeover of Milan is now reportedly negotiating for 80 per cent of the stock rather than 70 per cent.

It has been suggested today that a deal will be announced on July 7, the day pre-season training begins.

Read the rest on Football Italia.
Lapadula to AC Milan stunned Pescara
26.6 || webmaster

Pescara President Daniele Sebastiani reveals he knew nothing about Milan's bid for Gianluca Lapadula until yesterday afternoon.

The striker had been wanted by clubs including Napoli, Genoa, Juventus and Leicester City, but the Rossoneri completed a shock swoop today.

Read the rest on Football Italia.
Konko 'in AC Milan talks'
26.6 || webmaster

Lazio right-back Abdoulay Konko is "in talks with Milan," confirmed his agent.

The 32-year-old is a free agent, as his contract with the Aquile will expire on June 30.

Read the rest on Football Italia.
New AC Milan go for Lukaku?
26.6 || webmaster

The Corriere dello Sport claims Milan will target Everton and Belgium striker Romelu Lukaku after the Chinese takeover.

President Silvio Berlusconi has been in negotiations with a Chinese conglomerate to sell 70-80 per cent of the club and an announcement is expected around July 7.

Read the rest on Football Italia.
Pjaca would be 'honoured to join AC Milan'
24.6 || webmaster

Marko Pjaca's agent says 'Milan and many top clubs' are interested in the Dinamo Zagreb winger, who is delighting at Euro 2016.

While Ivan Perisic may be stealing the scene with the Croatians, Pjaca's performances have been no less impressive and he has already been linked to Serie A.

Read the rest on Football Italia.
West Brom close to Vazquez?
24.6 || webmaster

There are reports West Bromwich Albion have won the race to sign Palermo star Franco Vazquez.

His preference was known to be Milan, but Palermo confirmed negotiations were being held up by the club's takeover talks.

Read the rest on Football Italia.
OFFICIAL: AC Milan sign Lapadula
24.6 || webmaster

Milan have officially signed last season's star Serie B striker Gianluca Lapadula, beating Napoli and Juventus.

The 26-year-old set the secondary Italian championship ablaze with 30 goals in 44 games. A transfer seemed a near-certainty and the most likely candidates were the Partenopei, who meant to employ him as a bencher for Gonzalo Higuain, and Juventus, who planned to loan him out to a smaller club like Sassuolo.

Read the rest on Football Italia.
Reports: Lapadula chooses AC Milan
23.6 || webmaster

Numerous reports say Milan have beaten Napoli and Juventus to the signing of Pescara's Gianluca Lapadula.

The striker has been sought by a number of top-flight clubs, as he was Serie B top-scorer last season.

Read the rest on Football Italia.
AC Milan hijack Ibrahimovic deal?
23.6 || webmaster

Milan are looking to hijack Manchester United's move for Zlatan Ibrahimovic, according to reports.

The Swedish striker is a free agent after leaving Paris Saint-Germain, and is widely expected to join up with Jose Mourinho at Old Trafford.

Read the rest on Football Italia.
AC Milan: new deal for Vazquez
23.6 || webmaster

Milan are offering €18m plus Rodrigo Ely and Jose Mauri in exchange for Palermo's Franco Vazquez, but it may not be sufficient.

With Roma busy rebuilding their defence and negotiating Fiorentina's Milan Badelj, the Rossoneri have been left as the only major club in the running for the Rosanero attacking midfielder.

Read the rest on Football Italia.
AC Milan derby for Navas
22.6 || webmaster

Inter and Milan are reportedly ready to pick up Jesus Navas from Manchester City at a discounted price.

The 30-year-old Spaniard looks like he is going to be replaced among the Citizens by his counterpart Nolito, who enjoys the favour of incoming Coach Pep Guardiola.

Read the rest on Football Italia.
AC Milan: Brocchi, Giampaolo, de Boer
22.6 || webmaster

The three main candidates for Milan's bench are Cristian Brocchi, Marco Giampaolo and new name Frank de Boer, say reports.

The naming of the Coach is one of the priorities that the Rossoneri have to sort out after the sale of the club to a new ownership.

Read the rest on Football Italia.
AC Milan to announce new Coach
22.6 || webmaster

There are reports Milan will announce their Coach for next season on July 1, with Marco Giampaolo the favourite.

The Rossoneri sacked Sinisa Mihajlovic in April to make way for Cristian Brocchi, who was promoted from the Primavera youth team job.

Read the rest on Football Italia.
'Vazquez close to Premier League'
20.6 || webmaster

Palermo vice-President Guglielmo Micciche confirms "talks with some English clubs" for Franco Vazquez, including West Bromwich Albion.

The Rosanero are resigned to losing their star man this summer, but are looking for a fee of €25m for the attacking midfielder.

Read the rest on Football Italia.
Witsel: 'Serie A fascinating'
20.6 || webmaster

Zenit St Petersburg striker and Roma target Axel Witsel admits 'Italian football fascinates me', though Milan's interest is 'a thing of the past'.

The 27-year-old's confident performance during Belgium's 3-0 win over the Republic of Ireland confirmed his quality to the eyes of his Serie A suitors.

Read the rest on Football Italia.
AC Milan plan Empoli influx?
20.6 || webmaster

If Marco Giampaolo takes over at Milan, he could be joined by Riccardo Saponara, Leandro Paredes and more Empoli men.

The reports emerged today of a secret meeting between CEO Adriano Galliani, the advisor to Chinese investors and Coach Giampaolo.

Read the rest on Football Italia.
Top 10 Goal Celebrations
20.6 || webmaster

Scoring a goal is one of the most rewarding moments in football. Some players celebrate their goal by running to the crowd, others celebrate with their teammates. However, some celebrate in a truly outrageous style. Here are our top 10 goal celebrations in preparation for Euro 2016:

Why Always Me?




In 2011, Mario Balotelli seemed to be making headlines every week due to his off-pitch antics. Antics such as throwing darts at youth team players and driving into a women's prison "to have a look round" were all reported by the English press. The day before the match, news broke that Balotelli had set his house on fire with fireworks he set off in his house. In the next match, Balotelli revealed the 'Why Always Me?' shirt to hit back at the English press.

Salmon Flop



Back in 1999, Ian Wright showed off the celebration for Celtic when he scored their sixth goal against Aberdeen. However, this celebration is rarely seen these days at football matches, but is commonly used by players of the FIFA video game series.

Catch of the Day



Stjarnan FC became internet sensations with their outrageous, but impressive, choreographic celebrations. Stjarnan performed a number of outrageous celebrations such as imitating a human toilet, a human bicycle, and replicating a Rambo shooting spree. However, their catch of the day celebration is the best of the bunch.

Self-Applause




Lower league games tend to have low attendances, and as a result there are gaps around the stadium. After scoring a goal against Castleton Gabriels, Matthew Russell took advantage of the emptiness and grabbed a seat in one of the empty stands and applauded his effort at goal.

It's A Knockout




In March 2015, a leaked video showed Wayne Rooney being knocked unconscious in a kitchen boxing match and made it on to the front page of national newspapers. In the very next game, Rooney celebrated his goal by mimicking the leaked video.

Backward Somersaults




After finding the back of the net in the 2002 World Cup, Julius Aghahowa celebrated his goal in spectacular fashion by backwards somersaulting multiple times. If he kept on going, he may have ended up outside of the stadium.

The Robot




In 2006, Peter Crouch introduced the world to The Robot after scoring goals against Hungary and Jamaica. Crouch's celebration was a parody of a celebration he had seen on a television programme. In 2007, Crouch 'killed off' The Robot by claiming he would never use the dance again unless he scored a big goal in the World Cup final or Champions League final. After a comic relief sketch in 2009, Crouch partially reprised the dance after scoring against Ukraine in a World Cup qualifier. Unfortunately, The Robot has not been used since.

The Phil Brown



When Hull got embarrassed in the first half of a Premier League games versus Manchester City, manager Phil Brown gave his half time team talk on the pitch in front of the Hull fans. 12 months later the players got their own back by mimicking Brown's ticking off, led by goal scorer Jimmy Bullard.

Selfie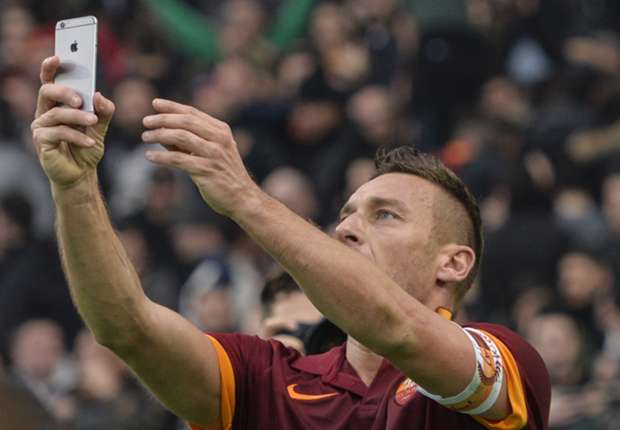 In the Rome derby between Roma and Lazio, Francesco Totti celebrated in the most 'modern way' possible. After scoring a vital equaliser, Totti got hold of a phone from the Roma coaching team and proceeded to take a selfie with the Roma fans.

Punchout



Back when AFC Bournemouth was languishing in League Two and in deep relegation trouble, their former manager Jimmy Quinn sent the team out for some boxing training. After scoring in the next game, Lee Bradbury showed off his skills on his teammates.
Betis want Suso from AC Milan
18.6 || webmaster

Spanish newspaper As claims Real Betis are making a bid for Milan winger Suso.

The 22-year-old arrived from Liverpool in January 2015 and struggled for playing time, but made a big impact during his six-month loan at Genoa.

Read the rest on Football Italia.
Bacca: 'I have important offers'
18.6 || webmaster

Carlos Bacca said "my priority remains Milan, but I have offers from important clubs in Spain, England, France and Germany."

The Colombian hitman has only been at San Siro for one season, but the on-going uncertainty during takeover talks fuelled rumours of an exit.

Read the rest on Football Italia.
Agent: 'No Niang offers yet'
17.6 || webmaster

M'Baye Niang has caught the eye of many clubs, "including in England and Germany," but no formal offers for the Milan striker.

The forward has been linked with a move away this summer, above all to the Premier League.

Read the rest on Football Italia.
Agent: 'Paletta stays at AC Milan'
17.6 || webmaster

Gabriel Paletta's agent reveals "Milan want to keep him, so he should stay".

The defender spent last season on loan at Atalanta, but there was no buyout clause in the arrangement.

Read the rest on Football Italia.
AC Milan: Vazquez for Giampaolo
17.6 || webmaster

Milan are thinking of bringing in Marco Giampaolo as new Coach, and they'd sign Palermo's Franco Vazquez for him.

Joint-CEO Adriano Galliani already had a meeting with Cristian Brocchi to lay down the preparations for the upcoming season, but it's unlikely the current Coach will keep his job.

Read the rest on Football Italia.
Gattuso's Pisa promoted
12.6 || webmaster

Pisa have earned promotion to Serie B after a chaotic play-off against Foggia, which saw Coach Gennaro Gattuso struck by a bottle.

Gattuso's Pisa won the first leg of the Lega Pro final 4-2 and came away with a 1-1 draw at the Stadio Zaccheria this evening.

Read the rest on Football Italia.
AC Milan sale talks progress
11.6 || webmaster

As Silvio Berlusconi awaits heart surgery, intermediary Sal Galatioto flies in for talks with Fininvest over the Milan sale.

The President has been in a clinic for several days after cardiac problems and will have an aortic valve replaced on Tuesday.

Read the rest on Football Italia.
Emery wants Bacca at PSG
11.6 || webmaster

Carlos Bacca could be tempted into leaving Milan for a reunion with Unai Emery at Paris Saint-Germain.

It is widely reported the Sevilla Coach has a deal to take over at PSG next season.

Read the rest on Football Italia.
Empoli: 'No Saponara - AC Milan talks'
11.6 || webmaster

Empoli President Fabrizio Corsi insists "we have not been contacted by Milan" for Riccardo Saponara.

The Rossoneri sold the attacking midfielder to the Tuscan side in May of 2015 for a reported €4m, having originally signed him from the same club in 2013.

Read the rest on Football Italia.
Kovacic: 'Juventus or AC Milan? Maybe…'
6.6 || webmaster

Real Madrid midfielder Mateo Kovacic won't rule out a move to Milan or Juventus, but won't return to Inter while Roberto Mancini is Coach.

The Croatian playmaker left the Nerazzurri last summer, but made just eight starts in La Liga in the season which has just finished.

Read the rest on Football Italia.
AC Milan book Emery?
6.6 || webmaster

AC Milan are in pole position for the signing of Sevilla coach Unai Emery but it seems that they face fierce competition from French champions Paris Saint-Germain.

The Milan based club are also in advanced negotiations to sell the club to Chinese investors. They are the ones that seem to push for the arrival of Emery.

According to La Gazzetta dello Sport, Milan have already agreed terms with the Spanish coach and are willing to splashe €3m on his release clause mentioned in his Sevilla contract.

However, the report also claims that there's a significant chance PSG will go after Emery and that would convince him to head towards France instead, which would make football betting fans slightly confused.

Paris Saint-Germain's first choice is Diego Simeone, who does not seem very interested in leaving Atletico Madrid.

Berlusconi has already said several times that if he will still be in charge of the Rossoneri that they will go ahead with present Coach Cristian Brocchi.
Berlusconi scuppers AC Milan sale?
6.6 || webmaster

There are increasing reports Silvio Berlusconi is trying to back out of selling Milan to a Chinese consortium.

The President has been close to a sale before only for negotiations to break down and Sky Sport Italia suggest the pattern is repeating.

Read the rest on Football Italia.
Carlos Bacca linked with move to West Ham
3.6 || webmaster

Reports suggest West Ham have bid £15 million for AC Milan striker Carlos Bacca. However, West Ham may have to up their offer in order to bring the hitman to East London.

It's understood AC Milan are holding out for £19 million, with Milan's prospective new Chinese owners looking to have the final say on if the player is sold, or if more cash is demanded.

The Colombian forward, who turns 30 in September, scored 18 league goals in his first season with AC Milan after joining from Sevilla last summer. AC Milan secured his services for £21 million and would be looking to recoup as much as possible for the player.

Bacca's representative, Sergio Barila, played down talk of the Colombian being close to a switch to the Olympic Stadium. Barila told Tutto Mercato: "I have been waiting for hours, but nothing has been decided at the moment, as we are evaluating more than one option."

"There are many important clubs who have contacted us, and it is normal as Bacca guarantees you many goals during the season.

"And he is definitely a valuable player in the market."

With a number of high profile sponsors of West Ham, and their move to the Olympic Stadium in London drawing international attention, many will be looking for 888 casino reviews online.

West Ham co-chairman David Sullivan has been vocal about the need to sign a "top striker" this summer. It's claimed he is willing to spend up to £30m to secure a top name striker.
'Bacca awaits AC Milan project'
1.6 || webmaster

Carlos Bacca's agent confirmed "many clubs are interested, but we need to know the new Milan project before deciding."

The Colombia international only joined from Sevilla a year ago for €30m and was their top scorer this season with 18 Serie A goals.

Read the rest on Football Italia.
Juventus join Kovacic chase
1.6 || webmaster

Mateo Kovacic has reportedly been offered to Juventus for €25m, just a year after he joined Real Madrid.

The young Croatia international struggled for playing time under both Rafa Benitez and Zinedine Zidane, so could be released this summer.

Read the rest on Football Italia.
Barca consider Romagnoli?
1.6 || webmaster

Barcelona have reportedly expressed a "liking" for Milan's Alessio Romagnoli after being priced out of other targets.

According to Mundo Deportivo, Barca are ready to nurture Romagnoli as Gerard Pique's long-term partner after Athletic Bilbao refused to budge on Aymeric Laporte's €50m release clause.

Read the rest on Football Italia.